Interesting and Fun New York City Facts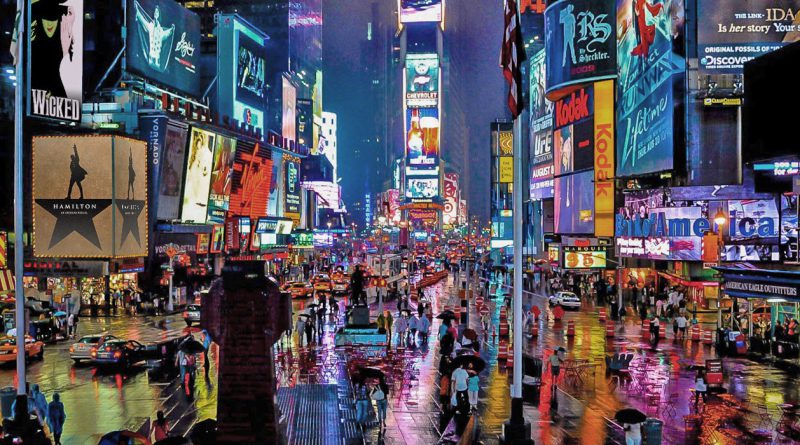 New York City is usually known as the melting pot because people who are from different cultural backgrounds live in this beautiful city. The city is also known for its rich history, inventions, and food. Do you know that over 800 languages are spoken in New York City? We have put together some of the most interesting and surprising facts about New York City for your reading pleasure. You will discover that there was an island in New York city that disappeared and also find out why it disappeared. Happy New York City fact exploration!
1. New York City covers about 790sq km and is part of New York, a state in the U.S that is among the original 13 colonies.
2. New York City is 5 hours late from GMT (Greenwich Mean Time) since it follows the Eastern Standard time.
3. With a population of about 20 million, New York has the most diverse linguistics in the world with over 800 languages spoken there.
4. The nickname of New York is "the big apple" which came as a result of the big money prizes that were placed in horse racing held in the 1920s.
5. Oysters are very popular in New York and their shells were used in Pearl Street to pace the road and also it was used in the trinity church to line the masonry.
6. There is a very deep hole in New York that is found at a street in Park Avenue that is 150 feet deep.
7. In New York City, unclaimed dead bodies are buried in Hart Island which lies off the coast of the Bronx.
8. If Brooklyn was not part of New York City and was another city of its own, it would have been the 4th largest city in the United States.
9. The coastline of New York city is very long and is longer than Boston, Los Angeles, Miami, and San Francisco coasts combined.
10. New York City was where the first headquarters of the United Nations was established in 1952 after World War 2.
11. The first native people of New York City were the Lenape, who were members of the Algonquin community.
12. The first name of New York City was New Amsterdam before the city was invaded by the British who renamed it New York City.
13. New York City is the only city in the world with the most billionaires and also with about 500 thousand millionaires.
14. The winter of 1780 was so harsh that the New York harbor froze up and people could move from Manhattan to Staten Island on the ice.
15. November 28th, 2012, in New York City is celebrated, as it was the only time ever recorded that stabbing, shooting, or murder didn't occur.
16. In the year 2010, New York legalized credit card minimums at 10 US dollars and the law still stands to date.
17. A major power outage happened in New York City in 2019 and this left about 72,000 consumers in darkness for about 7 hours.
18. In New York City, it is legal to move around in public without tops and it was even celebrated in 2018 by New Yorkers.
19. In New York City, packing tickets generates a lot of revenue for the city at around $120 million every year.
20. The first pizzeria in the US was established in New York City in the year 1857.
21. A lot of North American bird species reside in New York City, about 257 out of the 800 known species of bird in North America.
22. The largest marathon that is held in the world happens in New York City and it first took place in 1970.
23. The Statue of Liberty that is located in New York City was a gift that the US received from France in 1886.
24. The New York City museum was established in 1923 and it has about 1.5 million New York-related objects.
25. In the whole of the United States, the New York City subway is the busiest and it ranks 7th in the world with about 1.7 billion riders each year.
26. Oculus New York City costs about $4 billion to construct and contrary to what people think, it has a very simple design.
27. The public library of New York City was once the largest marble building in the US and it is the third-largest library in the world.
28. The world's largest gold reserve is that of the New York City Federal Reserve Bank with over 7,000 tons of gold.
29. Times Square was named after the New York Times after New York Times moved over there in 1904. Its original name was Longacre Square.
30. Washington Square Park used to be a cemetery and more than 20,000 bodies are buried there.
Attention! Do you know that the number of dogs in Paris is higher than the number of children? Interesting to know more about Paris? Check out 61 Fascinating Facts about France and Paris.
31. Lowline, an underground park in New York, is the first underground park in the world.
32. John Lennon, the band member of The Beatles was shot dead in Dakota, New York City in 1980.
33. The city college of New York was founded by Townsend Harris in 1847 and it was originally a free academy.
34. Although most of their citizens disobey this law, honking is not legal in New York City.
35. In New York City, the Empire Building is simply a terrifying place to be as it is hit by lightning about 23 times each year.
36. Outside of Israel and Asia respectively, New York City has the largest population of Jews and Chinese.
37. The central park mall, the only straight path in Central Park, was originally built so that the wealthy can display their wealth publicly.
38. Cowboys were originally used by the government to prevent accidents by wrangling people out of the way of freight trains.
39. The eyeballs and brain of Albert Einstein are kept in a safe box in New York City.
40. In New York City, if you are a homeowner, you can request that a tree be planted in front of your house for free.
41. The average house rent price in New York City is quite above average at 3500 US dollars every month.
42. New York City is known for its yellow taxis, but it was initially green and red and was only changed to yellow in 1912.
43. There was an island in New York city called Hog Island that disappeared after the hurricane that happened in 1893.
44. Women were not allowed into one of the oldest bars in New York City, McSorley, until 1970.
45. If a homeless person cannot afford a one-way ticket and has a guaranteed place to stay, New York City will pay for it.
46. In New York City, there are more people who are undergraduates than there are in Boston.
47. In the Waldorf Astoria hotel in New York City, there is a hidden train platform there.
48. Getting a hotdog stand permit in New York City can be very expensive at the cost of $289,000 each year.
49. During the Revolutionary War, it was in New York city that the biggest battle of the war was fought, the battle of Long Island.
50. Ellis Island was once used for pirate activities in the 1770s, it was a place where criminals and pirates were hanged.
51. The oldest hospital which is still in operation today is the Bellevue hospital, it was founded in 1736 in Manhattan, New York City.
52. Before Hollywood, New York City was the center of the American film industry and the city showed the first commercially exhibited movies in 1894.
53. The first roller coaster was created in 1884 and was a switchback railway in Coney Island.
54. Central Park in New York city has featured more films than any other location in the world with more than 300 films.
55. The Brooklyn children's museum which opened in 1899 was the first children's museum.
56. The first escalator which was invented by Jesse W. Reno was installed in Coney Island in 1896 before it was moved to Brooklyn Bridge after 2 weeks.
57. It was in New York city that General Tso's Chicken became very popular and the Waldorf Astoria invented the Waldorf salad.
58. New York City residents drink about 7 times more coffee than any other residents of a city in the United States.
59. The Brooklyn Bridge in New York City has inspired more art than any other structure in the United States.
60. New York City is known as the Jazz Capital and till today, still hosts the winter jazz festival.
61. The bright lights that are in Times Square, can be seen outside the earth in space.