Interesting Facts About Copenhagen, Denmark
Copenhagen one of Europe's oldest cities is the capital of Denmark and the most populous one in the country too with a population of 805,402 as of January 1st, 2022.
Renowned as "the Happiest City in the world", the city of Copenhagen is an eco-friendly destination with many structural spectacles to its credit that draws tourists who are eager to sample new Nordic cuisines, visit renaissance castles and ride bicycles along the city's 250 miles of bike paths.
The city is looked upon as one of the most energy-sufficient and sustainable cities around the world. Keep reading to uncover more fascinating facts about this interesting city.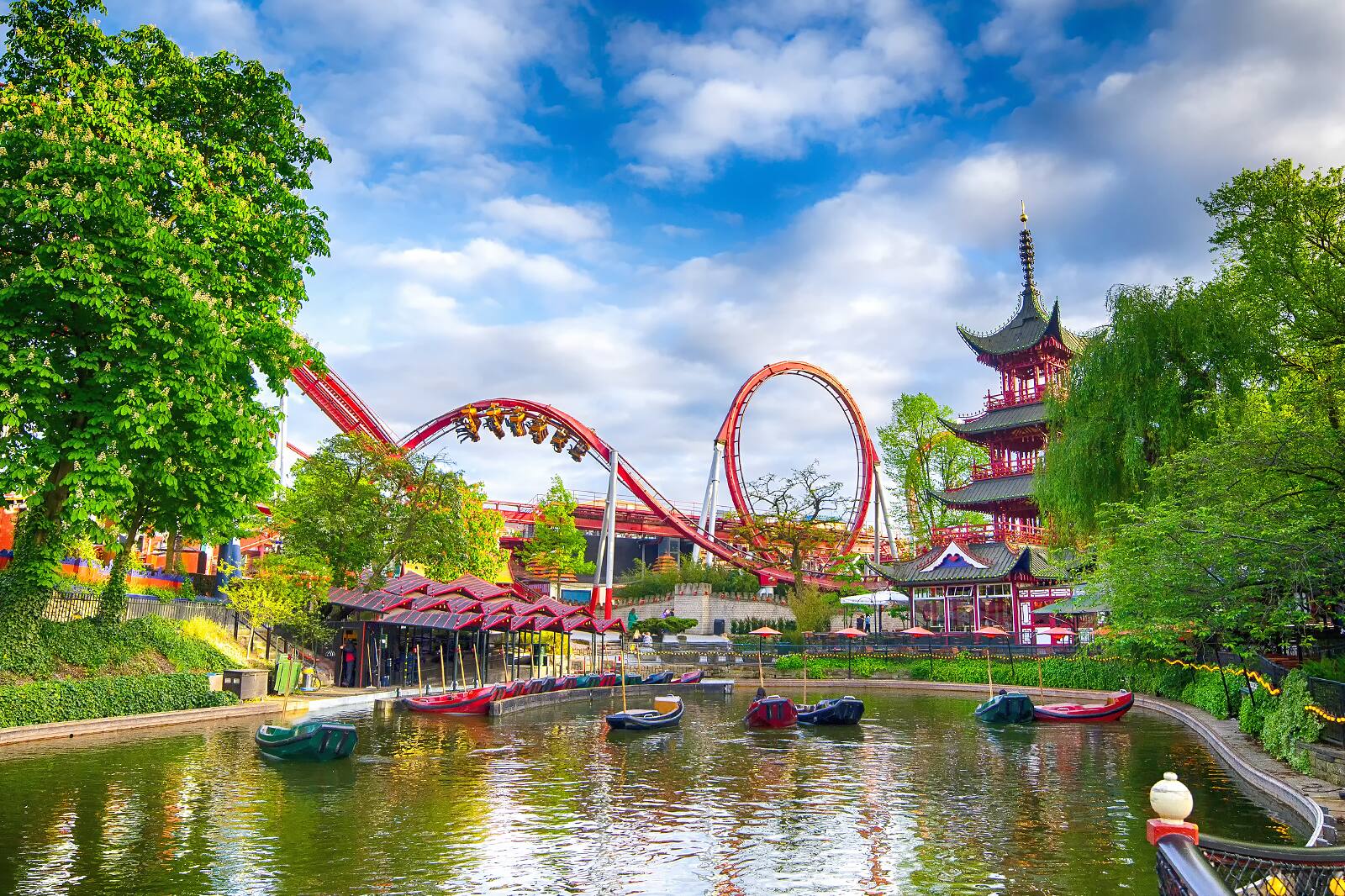 1. Copenhagen carries its history in its name, as a harbor and a place of commerce. The original Danish name, 'Kobenhavn' meant "Merchant's Harbor" and through the German translations and influences, the name "Copenhagen" became popular.
2. Copenhagen is one city that came from "nothing to something". It used to be a small fishing village known as 'Havn', that grew into the cosmopolitan city it is today.
3. The World Happiness Report 2013 shows that Copenhagen is the happiest city in the world and the best place to live in the world too.
4. One of the top five largest beer companies in the world originated in Copenhagen in 1847, Carlsberg Brewery.
5. Copenhagen has a very scenic night view of the skylines, because of its extremely clear waters.
6. Copenhagen harbors the largest aquarium in Northern Europe, which is known as the Den Bla Planet or the Blue Planet.
7. It is one of the world's oldest kingdoms of the world, hailing from the Viking era.
8. Copenhagen is the largest city in Scandinavia in terms of city size, though not the most populous.
9. The city of Copenhagen had suffered and endured terrible effects of plague, flooding, fire, and sieges, after which it went through a period of underdevelopment.
10. One of the most Renaissance castles in Northern Europe and probably the most famous Danish castles, the Kronborg castle is found in Copenhagen.
11. Most of Copenhagen's most popular attractions are within walking distance. It is an official municipal policy in Copenhagen that by 2015 all citizens must be able to reach a park or beach on foot in less than 15 minutes.
12. Christiansburg, the Danish seat of government, located on the tiny island of Slotsholmen, is a top attraction in Copenhagen.
13. Nyhavn, the 17th-century waterfront and entertainment district of Copenhagen, harbors many historical wooden ships.
14. The Little Mermaid statue which is a Copenhagen icon is a bronze statue made by Edvard Eriksen. The sculpture is displayed on a rock by the waterside at the Langeline promenade in Copenhagen, Denmark.
15. Copenhagen is home to the oldest and second-oldest operating amusement park in the world.
16. Copenhagen is one of the safest cities in the world. Many schools in the city do not require parental consent for children to go on field trips as children are sometimes left alone without fear of kidnapping or any harm.
17. The University of Copenhagen, founded in 1479, is the oldest university in Denmark.
18. The most important thing to note about the city of Copenhagen is the fact that it is a green city with plans to be carbon neutral by 2025.
19. Copenhagen has one of the highest numbers of bars and restaurants per capita in the world. The nightclub and bars stay open until 5 or 6 in the morning.
20. Often referred to as "the City of Spires", Copenhagen is known for its horizontal skyline, broken only by the spires and towers of his churches and castles.
21. Copenhagen Airport is the busiest airport in the Nordic countries, serving roughly 2 million passengers a month.
22. In 1711, the bubonic plague swept through the city of Copenhagen and killed off a third of the city's 60,000 citizens.
23. The fire that raged Copenhagen in 1728 destroyed nearly half of the city's medieval structures, including the University of Copenhagen Library, which held more than 35,000 books and manuscripts.
24. In 1416, Copenhagen became the capital of not only Denmark but of Norway and Sweden as well.
25. Another fascinating thing about Copenhagen is that the people of the city love bicycles. More than half of the city's residents commute to work by bike, such that sidewalks and city squares are often jammed full of bicycles.
26. Did you know that Copenhagen's Tivoli Garden served as an inspiration for Disneyland? When Walt Disney visited the place in 1951, he spent several hours jotting down notes about everything in the park and he later said he wanted Disneyland to emulate the "happy, unbuttoned atmosphere of fun" he witnessed at Tivoli.
27. Copenhagen regularly converts unused lands into "mini-parks", not just for the obvious aim of increasing green space but for the hidden benefit of flood prevention.
28. There is the Copenhagen Historic Grand Prix where racecars of the past like a 1975 Bugatti or a 1965 Porsche 911, are displayed and unleashed against one another.
29. Cemeteries in Copenhagen often double up as park spaces which means it is not uncommon to find people picnicking next to tombstones.
30. Hans Christian Andersen, the famous Danish fairy tale stories writer, wrote many of his fairy tales and stories in Nyhavn, a 17th-century waterfront, carnal, and entertainment district.
31. There is usually an uncomfortable silence in Danish public transport systems which you'd find in the city of Copenhagen.
32. Did you know that the Danish flag is the oldest flag in the world that is still in use by an independent nation? The flag was adopted and has been in use since 1219.
33. The Stroget, Copenhagen offers the longest car-free pedestrian shopping zone in Scandinavia and in the entire world too.
34. Copenhagen has a self-governing town inside the city itself. The 'Freetown' city of Christiana has around 1000 residents, who do not pay taxes and run the town according to their laws.
35. Copenhagen has a large film and television industry, Nordisk Film, which was established in 1906 and is ranked as the oldest continuously operating film production company in the world.
36. Drinking is a normal way of life in Copenhagen. The Danes have been drinking for over 5000 years and it is estimated that they drink 80 liters of beer per person.
37. Even though Euro is the official currency for European countries, the city of Copenhagen and Denmark at large, has not adopted the currency yet. Instead, they make use of Danish Krones.
38. Denmark places 7th in the world for overall coffee consumption and thus, Copenhagen is home to many coffee shops and they take coffee culture very seriously.
39. Copenhagen's most famous restaurant, Noma, which is highly regarded for its exquisite cuisine has been awarded World Best Restaurant four times in 2010, 2011, 2012, and 2014.
40. Swimming in the harbor is forbidden in most major cities. This is not so in Copenhagen as swimming in Copenhagen's harbor is actively encouraged and it is a testament to the cleanliness of the city.
41. The annual Copenhagen Marathon was established in 1980 and has been hosted every year since then, except for the coronavirus which was the reason the marathon race was canceled in 2020 and 2021.
42. In Denmark, during World War II, Copenhagen was occupied by German troops from 1940 until 1945.
43. Islam is the second-largest religion in Copenhagen, accounting for approximately 10% of the population; whereas, a majority of 56.9% of the population are members of the Lutheran Church of Denmark.
44. Copenhagen Fashion Week is the second largest fashion event in Northern Europe after London Fashion Week. It takes place every year in February and August.
45. The Danes that live in Copenhagen are called 'Copenhageners'.
46. The Danes and Copenhageners are very faithful to their Christian religion and participate heavily in the celebration of Christian holidays related to their protestant inheritance.
47. The Danes love their dogs. There are over 150,000 dogs in Copenhagen and over 600,000 registered dogs in Denmark. Dogs have always been a household pet for the Danish people for generations.
48. Copenhagen is known for promoting community spirit, hence the importance of their famous 'faellesspisning' events which will do just that.
49. In Copenhagen, the average working week is 37 hours long giving parents more time to spend with their children. With 52 weeks of paid maternity and paternity leave, Danish moms and dads get a lot of time to spend with their newborns.
50. Most healthcare in Copenhagen is free as it is paid through taxes. When you move to the city, your doctor will automatically be assigned to you.
51. You can live comfortably in Copenhagen by only speaking English. Danish pronunciation is so challenging that even neighboring Norwegians and Swedes don't always understand it, despite the languages being very similar.
52. One major flaw about the city of Copenhagen is that you may have a hard time finding a consistent friendship group as an adult.
53. The Danes have a very strong sense of irony. So don't try to be funny in Copenhagen.
54. Copenhagen is the city with the most Michelin stars in the world. It has a total of 15 Michelin Stars awarded to it.
55. In 2000, Oresund Bridge, connecting Copenhagen to Malmo, Sweden was completed.
56. Copenhageners adore soccer and are crazy about the sport of handball.
57. Taxes in Copenhagen are so high with a maximum tax of 55.9% on personal income. Although incomes in the city are high enough that even a person making minimum wage could live decently compared to the United States.
58. There are high taxes in Copenhagen when buying a car and if you want to import your car from another country, even if it is a neighboring country, there will be hefty import fees which are oftentimes much higher than the value of the car.
59. Bike thefts are common in Copenhagen. Thieves will often get on a scooter, approach a cyclist, grab their bag and speed away.
60. Finding a job in Copenhagen is exhausting and incredibly competitive. And if you're not a European citizen, your ability to get a job will be challenged by visa requirements.
61. Nudity is permitted on Danish beaches. There are no laws prohibiting nudity in the parks and open spaces in Copenhagen.
Hope you enjoyed these Interesting facts about Copenhagen, leave a comment and share with friends and family. Do you know that the shortest flight in the world takes just 57 seconds to be completed?  Check out more 61 Surprising and Extraordinary World Facts.